---
Seminar Venue: 1620 City & Land Mega Plaza, ADB Ave. Ortigas Center, Pasig City
Accounting Seminar Schedules 2020: Apr 21-22 | May 19-20 | Jun 23-24 | Jul 21-22 | Aug 18-19 | Sep 22-23 | Oct 20-21 | Nov 17-18 | Dec 15-16
---
You probably losing a lot without this
According to Asian Development Bank (ADB), SMEs dominate the market by comprising 98% of all enterprises. Earning it the rightful title of "The Backbone of Asian Economies". Yet 60% of those Business Owners feel that they aren't very knowledgeable about Accounting and Finance (Small Business Report – Accounting).
The natural response is to hire External or Internal Accountants and let them do the work for you, right?
Well, not really.
Think about the 41% of Business Owners who place Accountants at the top of their List of Trusted Advisors (ICAS). Accountants are experts and you can trust their word, but why secure your business into the hands of other people, when it's your business and whatever happens to it will be your responsibility alone.
You need to entrust your business to you.
---
Accounting's Biggest Challenge
Your role in the company as a Business Owner or Department Head is to lead and maintain a smooth flow of operations, and Accounting will enable you to be great at it. If you expect to be a better business owner/manager after this training, familiarizing the concepts and rules of Accounting is a requirement to understand your business so that you can maneuver through even bigger challenges.
How we do it?
We approach Accounting through real-life scenarios, practical examples, and other great ways so that you can readily apply your new Accounting knowledge right after the seminar and make your job more meaningful and more fulfilling.
---
Accounting allows you to:
Speak the language of Business by having a grasp of the General Accounting Theories like the

basic Accounting terms

,

Bookkeeping

,

Accounting Process

and

Financial Statements.

Make better business decisions from analyzing the 4 Financial Statements (

Balance Sheet

,

Income Statement

,

Cash Flow Statement

, and

Statement of Changes in Equity

) through special ratios and measurements.

Track Business Expenses

,

Monitor Business Growth

, and

Forecast Revenues.

Assess the financial health of the business at any point in time.
Be

more engaged

and

hands-on the business.
---
Accounting, aka "The Language of Business"
Accounting is Business' main mode of communication, a key to running a successful business. Here are the right tools that you must know:
1. What is Accounting to Business Owners?

Here are the

rules

,

concepts

, and

theories

that makes accounting. Understand the intricacies of recording transactions and how each one them affects your bottom line.
1.1 The role of accounting in business (financial/managerial accounting)
1.2 Accounting process
1.3 Users of financial statements
1.4 Accounting information system
1.5 Accounting concepts, principles, jargons
2. Understanding Financial Statements

Financial statements are where you can have a quick look of your business' financial health; your

revenue

,

expenses

,

cash

,

inventory

, and more. Basically if you have questions about your business, you can find the answers here.
2.1 Balance sheet
2.2 Income statement
2.3 Cash flow statement
2.4 Statement of owner's equity
3. Leveraging Accounting Ratios and Analysis

Better business decisions are made because they are based on

forecasts

,

ratios

, and

hard financial evidences

. Discover how you can improve your business like never before.
3.1 Analysis & interpretation of financial statements: The business' SWOT
3.2 Liquidity analysis
3.3 Profitability analysis
3.4 Activity analysis
3.5 Capital structure analysis
3.6 Accounting tools for better decision making in business

WHO IS THIS FOR?
• Aspiring Entrepreneurs
• Business Owners
• Accounting Students
• Accounting Professionals
• Other Professionals
• And anyone who wants to Learn Accounting
WHY ARE WE PASSIONATE FOR YOU TO LEARN?

WATCH THESE VIDEOS!
Accounting for Non-Accountants – WHO IS THIS FOR?

| | | |
| --- | --- | --- |
| | | |
| | | |

Pricing and Seminar Options:
Consultation/Executive Seminars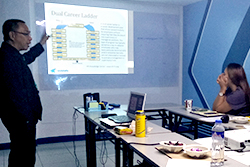 Additional Seminar Value: Financial Statement Analysis, Tax Implication, Business Process Review
Regular Seminar Rate: Php 30,000.00 (inclusive of VAT)
Who is this for: Business owners, Executives, and Managers
No. of Participants: Maximum of 2. (Additional participant: Php 8,000.00)
No. of Day(s): 2
Public Seminars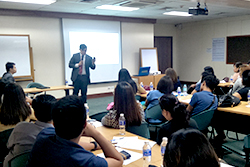 Additional Seminar Value: Q & A and Intensive Hands-On Exercises
Early Bird Rate: Php 7,310.00 (inclusive of VAT)
Regular Seminar Rate: Php 7,745.00 (inclusive of VAT)
Who is this for: Aspiring Entrepreneurs, Business owners, Accounting Professionals and Students, Other Professionals, and anyone who wants to learn accounting
No. of Day(s): 2
In-House Seminars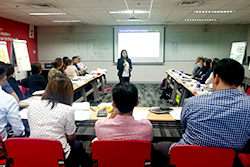 Additional Seminar Value: Financial Statement Analysis (Ratio), Q & A
Regular Seminar Rate: Rate depends on the no. of participants (inquire for quote)
Who is this for: Small, Medium, and Large Enterprises
No. of Day(s): 2

Related Business and Accounting Seminars:
1. Bookkeeping Basics: Essential Training for Non-Accountants
2. HR Training and Development: HR 101
3. Principles of Taxation in the Philippines (Essentials)
4. Payroll and Benefit Administration
5. Quickbooks Training Philippines
6. Business Registration Philippines (Seminar)
7. How to Handle BIR Audit in Philippine Settings
8. 2018 BIR TAX Updates: (TRAIN LAW) Tax Reform Seminar PH
9. List of all Business Seminars (Technical & Soft-skills)
Frequently Asked Questions
Option 1: Consultation/Executive Training
High-Intensity Training for People who wants to learn the practical uses of Accounting in Business. This training is customizable; you can pick and choose the topics to be discussed. We can also use your company's books of accounts for the examples.
Your schedule, your interest, your way.
Option 2: Public Training
There is a training schedule for the entire year, you will choose from all the dates that is most convenient to you, and
enjoy the training with other people of same interest
. Engage in intellectual conversations with Businessmen, Accountants, and other Professionals.
Option 3: In-House/Corporate Training
What if I can't choose a convenient date for my company to join the public training? Tell us your schedule, desired topics, venue and
we will bring the training to you!
Option 1: Consultation/Executive Training
2 Participants: Php 30,000.00
Additional Participant: 8,000.00
Option 2: Public Training
Early Bird Rate: Php 7,310.00
Regular Rate: 7,745.00
Option 3: In-House/Corporate Training
It varies. Send us your requirements then we'll provide you a proper quotation.
* Prices provided are all Inclusive of VAT
You are officially registered to a training after you complete a 2-step process. You'll have to fill out a registration form and then settle the training fee.
You can pay through bank transfer or at our office.
• Full-Day Access to the Training Program
• Printed Copy of the Presentation
• Worksheet
• Lunch
• Merienda
• Certificate of Completion
Yes, but it will be given only to those participants who will accomplish the entire training program.
Yes. We understand that we can't expect everyone to master accounting in one training. We'll continue having conversations with you so we can help you every step of the way.
You can send us inquiry through this
page
.