---
Venue: 1620 City & Land Mega Plaza, Ortigas Center, Pasig City
Schedules: Jun 5 | Jul 3 | Aug 7
---
Overview:
The thought of learning QuickBooks can feel a bit scary to a lot of people. Especially for business owners, it takes away precious time and the unavoidable errors that comes with learning will cost money.
If you're an accounting professional, bookkeeper, student who wants to have a competitive edge or a business owner who's looking to purchase QuickBooks, we'll take away the Risks for you!
QuickBooks Training Philippines (Software Skills) is the best way for you to learn how to use & operate QuickBooks without the risk of making real mistakes and paying realer penalties. Expect to be more confident and knowledgeable on using QuickBooks at an actual corporate setting.
WHY ARE WE PASSIONATE FOR YOU TO LEARN?

WATCH THESE VIDEOS!
II. Objectives:
By the end of the seminar, participants will be able to:

To fully understand how QuickBooks works; familiarizing the software's interface, shortcuts, functions, and features.
To be able to set up (Import) a company database in QuickBooks including, Chart of Accounts, Vendors Database, Customers Database, Inventory List, Financial Statements, and source documents.
To know how to record transactions and generate reports like Balance Sheet, Income Statement, Cash Flow Statement, and Statement of Changes in Equity.
To detect and resolve errors in QuickBooks.
To learn and appreciate QuickBooks in a relative and engaging way.
III. Who is this for?
• Aspiring Entrepreneurs
• Business Owners
• Accounting Students
• Accounting Professionals
• Bookkeepers
• Other Professionals
• And anyone who wants to Learn Quickbooks
IV. Course Outline:
1. Introduction

1.1 What is QuickBooks
2.2 How QuickBooks work
2. Overview of the accounting principles
3. How to set up database in QuickBooks

3.1 Chart of Accounts
3.2 Vendors Database
3.3 Customers Database
3.4 Inventory List
4. How to set up database in QuickBooks

4.1 How to generate reports like the balance sheet, income statement and other reports
4.2 How to detect errors in recording transactions in Quickbooks
5. Actual Simulation
Pricing and Training Options:
Consultation/Executive Training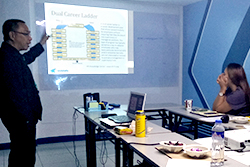 Additional Training Value: Financial Statement Analysis, Tax Implication, Business Process Review
Regular Training Rate: Php 30,000.00 (inclusive of VAT)
Who is this for: Business owners, Executives, and Managers
No. of Participants: Maximum of 2. (Additional participant: Php 8,000.00)
No. of Day(s): 1-2
Public Training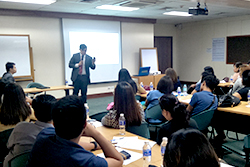 Additional Training Value: Q & A and Intensive Hands-On Exercises
Early Bird Rate: Php 3,136. (inclusive of VAT)
Regular Training Rate: Php 3,360 (inclusive of VAT)
Who is this for: Aspiring Entrepreneurs, Business owners, Accounting Students, Accounting Professionals, Bookkeepers, Other Professionals, and anyone who wants to learn Quickbooks
No. of Day(s): 1
In-House Training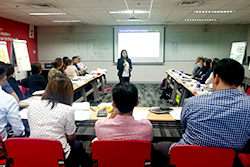 Additional Training Value: Financial Statement Analysis (Ratio), Q & A
Regular Training Rate: Rate depends on the no. of participants (inquire for quote)
Who is this for: Small, Medium, and Large Enterprises
No. of Day(s): 1

Related Accounting Trainings:
1. Bookkeeping Basics: Essential Training for Non-Accountants
2. HR Training and Development: HR 101
3. Principles of Taxation in the Philippines (Essentials)
4. Payroll and Benefit Administration
5. Basic Accounting for Non-Accountants: Accounting 101
6. Business Registration Philippines (Seminar)
7. How to Handle BIR Audit in Philippine Settings
8. 2018 BIR TAX Updates: (TRAIN LAW) Tax Reform Seminar PH
9. List of all trainings (Technical & Soft-skills)
Frequently Asked Questions
Option 1: Consultation/Executive Training
High-Intensity Training for People who wants to learn the practical uses of Accounting in Business. This training is customizable; you can pick and choose the topics to be discussed. We can also use your company's books of accounts for the examples.
Your schedule, your interest, your way.
Option 2: Public Training
There is a training schedule for the entire year, you will choose from all the dates that is most convenient to you, and
enjoy the training with other people of same interest
. Engage in intellectual conversations with Businessmen, Accountants, and other Professionals.
Option 3: In-House/Corporate Training
What if I can't choose a convenient date for my company to join the public training? Tell us your schedule, desired topics, venue and
we will bring the training to you!
Option 1: Consultation/Executive Training
2 Participants: Php 30,000.00
Additional Participant: 8,000.00
Option 2: Public Training
Early Bird Rate: Php 3,875.00
Regular Rate: 4,100.00
Option 3: In-House/Corporate Training
It varies. Send us your requirements then we'll provide you a proper quotation.
* Prices provided are all Inclusive of VAT
You are officially registered to a training after you complete a 2-step process. You'll have to fill out a registration form and then settle the training fee.
You can pay through bank transfer or at our office.
• Full-Day Access to the Training Program
• Printed Copy of the Presentation
• Worksheet
• Lunch
• Merienda
• Certificate of Completion
Yes, but it will be given only to those participants who will accomplish the entire training program.
Yes. We understand that we can't expect everyone to master accounting in one training. We'll continue having conversations with you so we can help you every step of the way.
You can send us inquiry through this
page
.